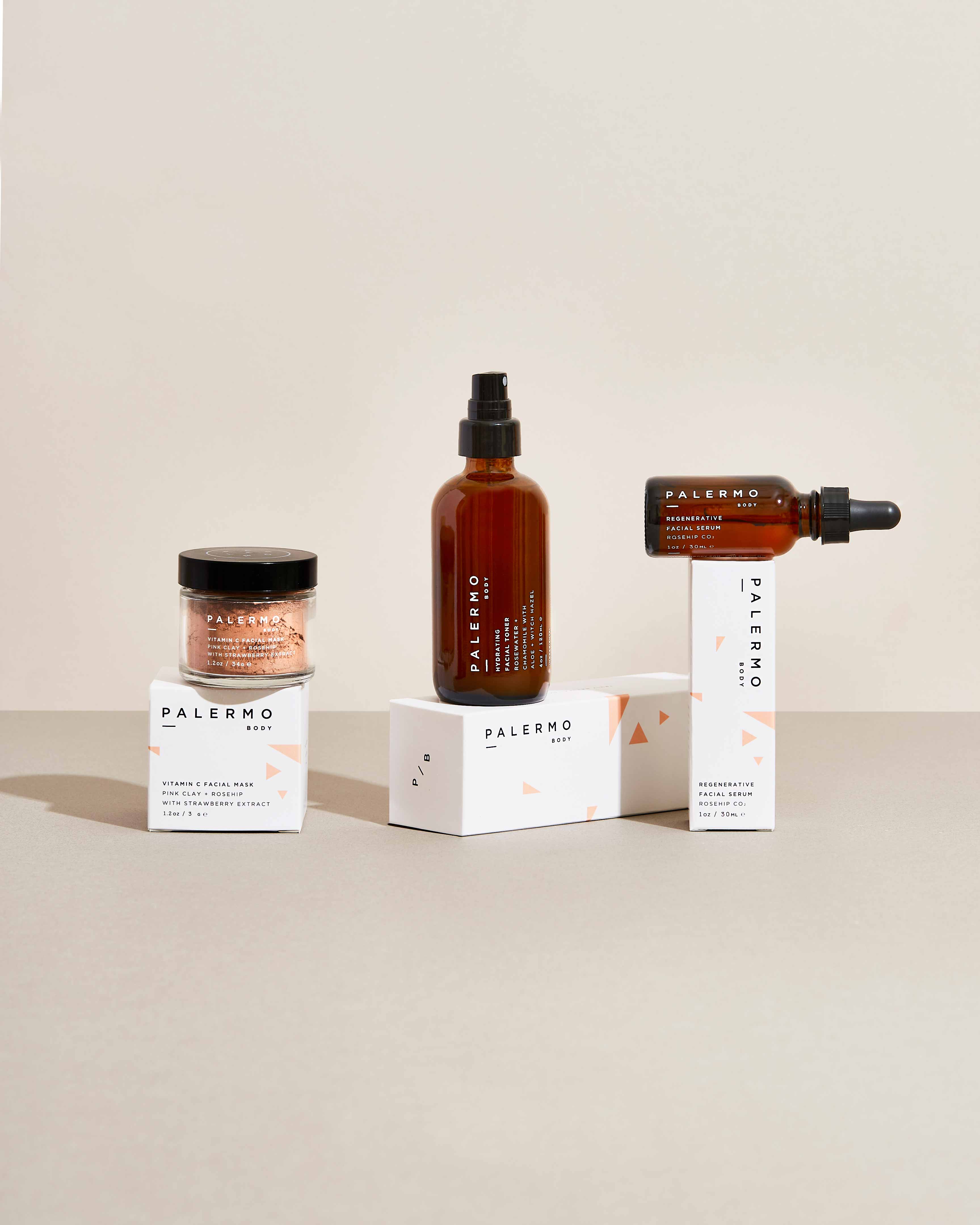 Everyday Facial Routine
Our best-selling minimalist facial routine
Perfectly packaged for your full facial routine—this trio offers everything you need for a simple, seamless routine that delivers visible results.
Our facial collection is well-suited for all skin types, and ideal for dry and sensitive skin.
Have you seen our Facial Discovery Kit?
Looking to test out our facial products before purchasing the full sizes? Check out our Facial Discovery Kit, complete with deluxe sample sizes of all three products for only $48. 
Hydrating Facial Toner
Shake well and apply liberally to face and neck. Follow with serum.

Regenerative Facial Serum
After cleansing and toning, apply 4-5 drops to face, under eyes, and neck. Use daily for best results.

Vitamin C Facial Mask
Add a teaspoon of mask powder to a small dish and add a few drops of water until achieving desired consistency. Using fingertips apply mask to face, massaging for gentle exfoliation. Allow to dry for 10-15 min and rinse with warm water.
Hydrating Facial Toner
rose hydrosol*, witch hazel hydrosol*, purified water, rosehip hydrosol*, chamomile hydrosol*, aloe vera, willow bark extract, glycerin, lactobacillus ferment, geranium oil, mandarin oil

Regenerative Facial Serum
rosehip seed CO2 *, argan oil*, apricot kernel oil, meadowfoam oil, evening primrose oil*, baobab oil, chia seed CO2*, sea buckthorn CO2*, pomegranate seed CO2*, vitamin e (non-GMO), rose otto, geranium oil, mandarin oil, carrot seed oil

Vitamin C Facial Mask
french pink clay, australian pink clay, rosehip powder*, strawberry extract, hibiscus powder*, chamomile powder*, geranium oil

*organic
Silky, velvety and smells so good! Love the shine that it gives!
A part of my everyday
The regenerative facial serum has made my skin look younger. It has a heavenly aroma and allows me to apply my moisturizer smoothly on my skin. I'm also in love with the regenerative body oil. The difference in my skin appearance is striking.
The. Best. Facial. Serum.
This serum is something special. It smells wonderful, but not overpowering and it's a DELIGHT to put on my skin. It moisturizes beautifully and is now a part of my daily routine. Thank you, Palermo!
Will buy again!
I added this serum to my skin routine and absolutely love it! I have dry skin but also have breakouts in my T zone. After a few weeks I say a difference in the texture of my skin as well as a reduction in scars/sun spots. It goes on so smooth and has a lovely scent!