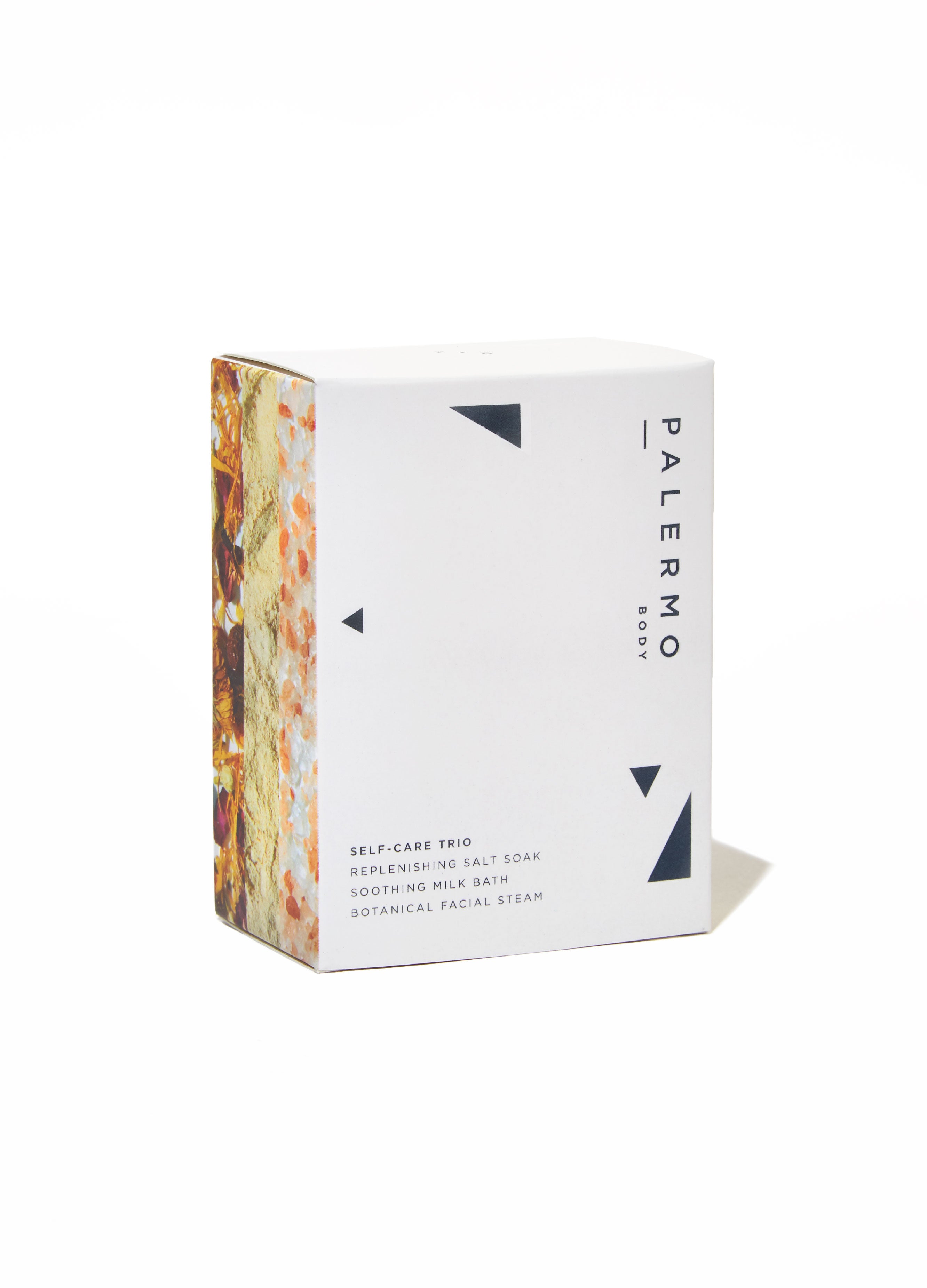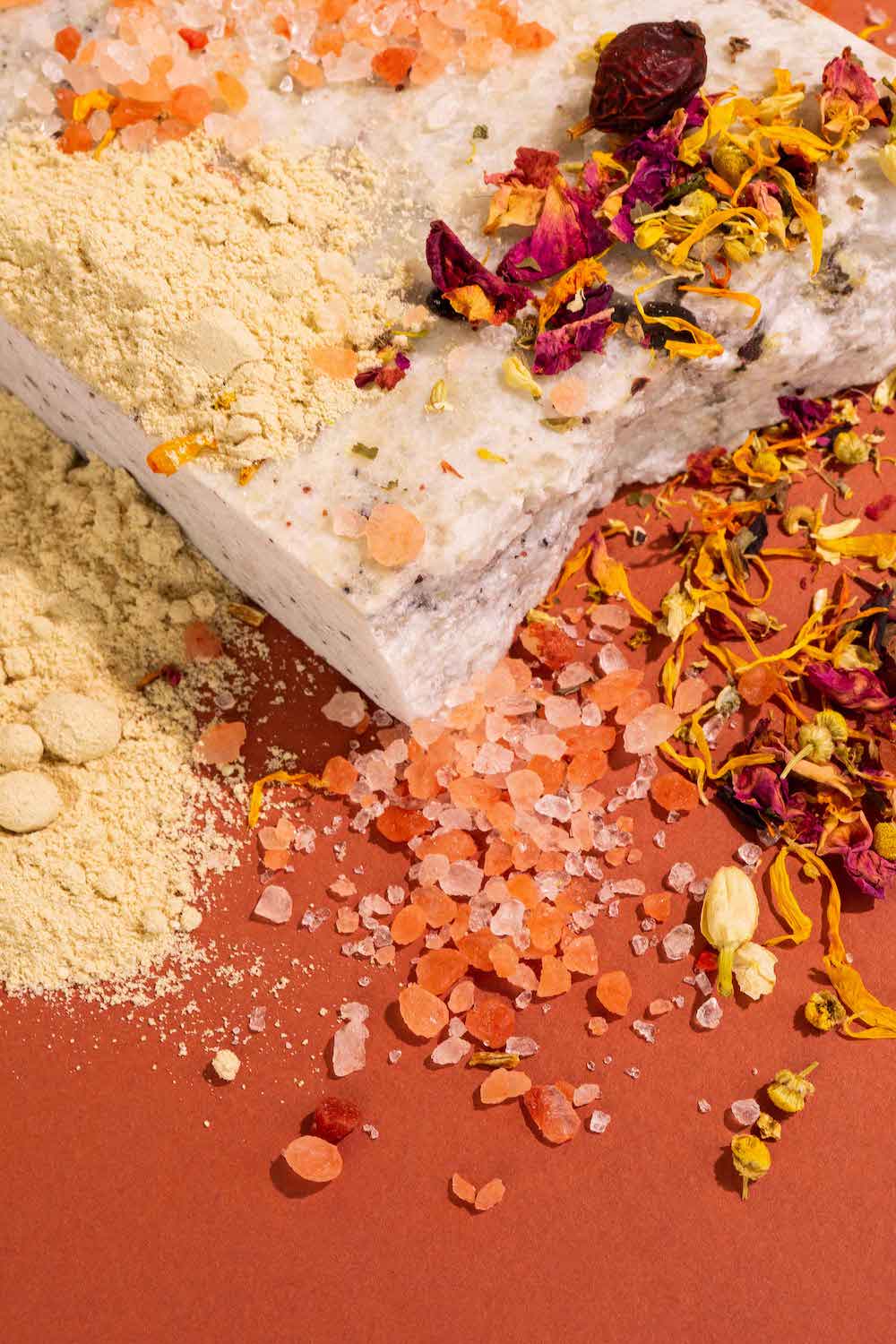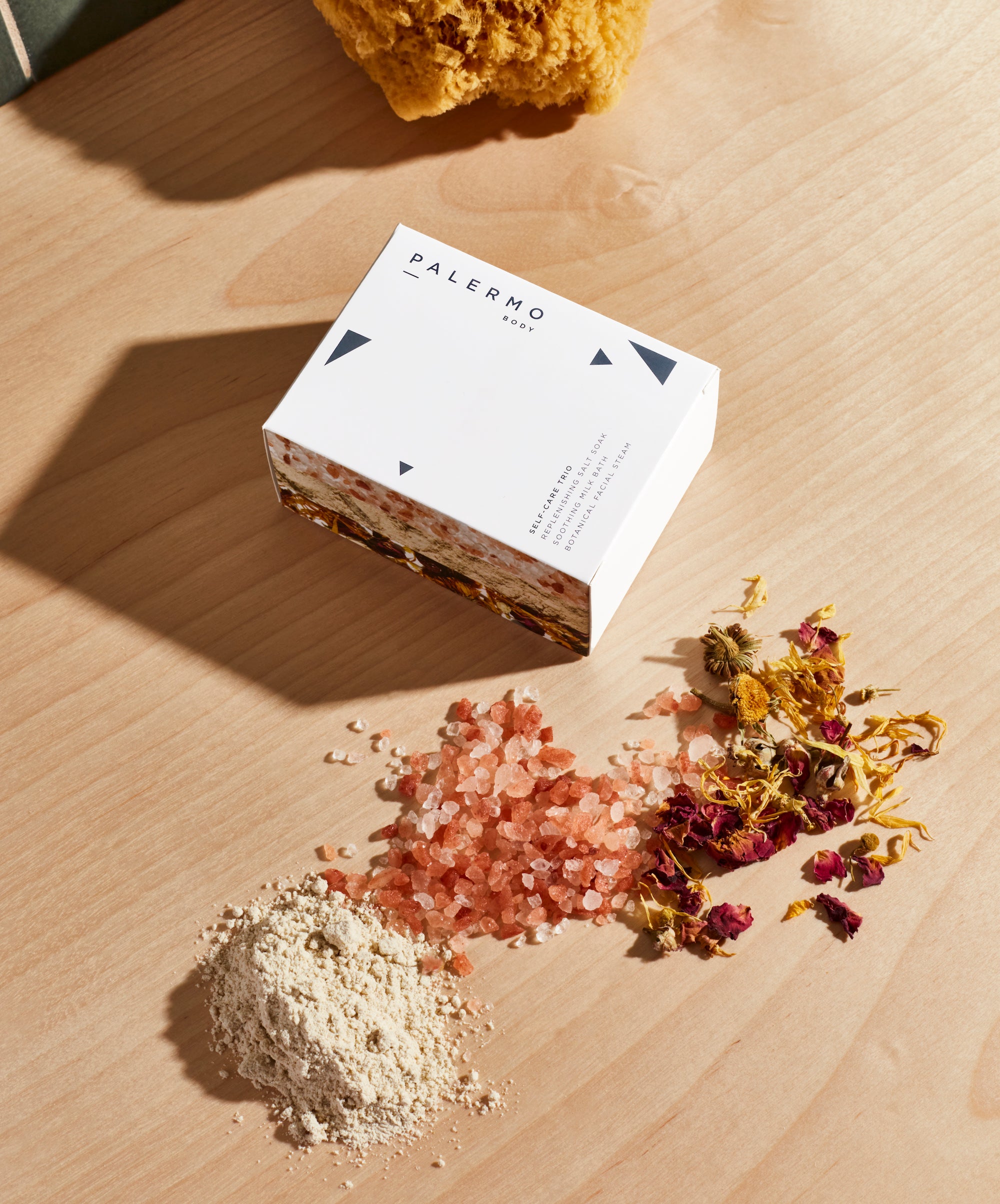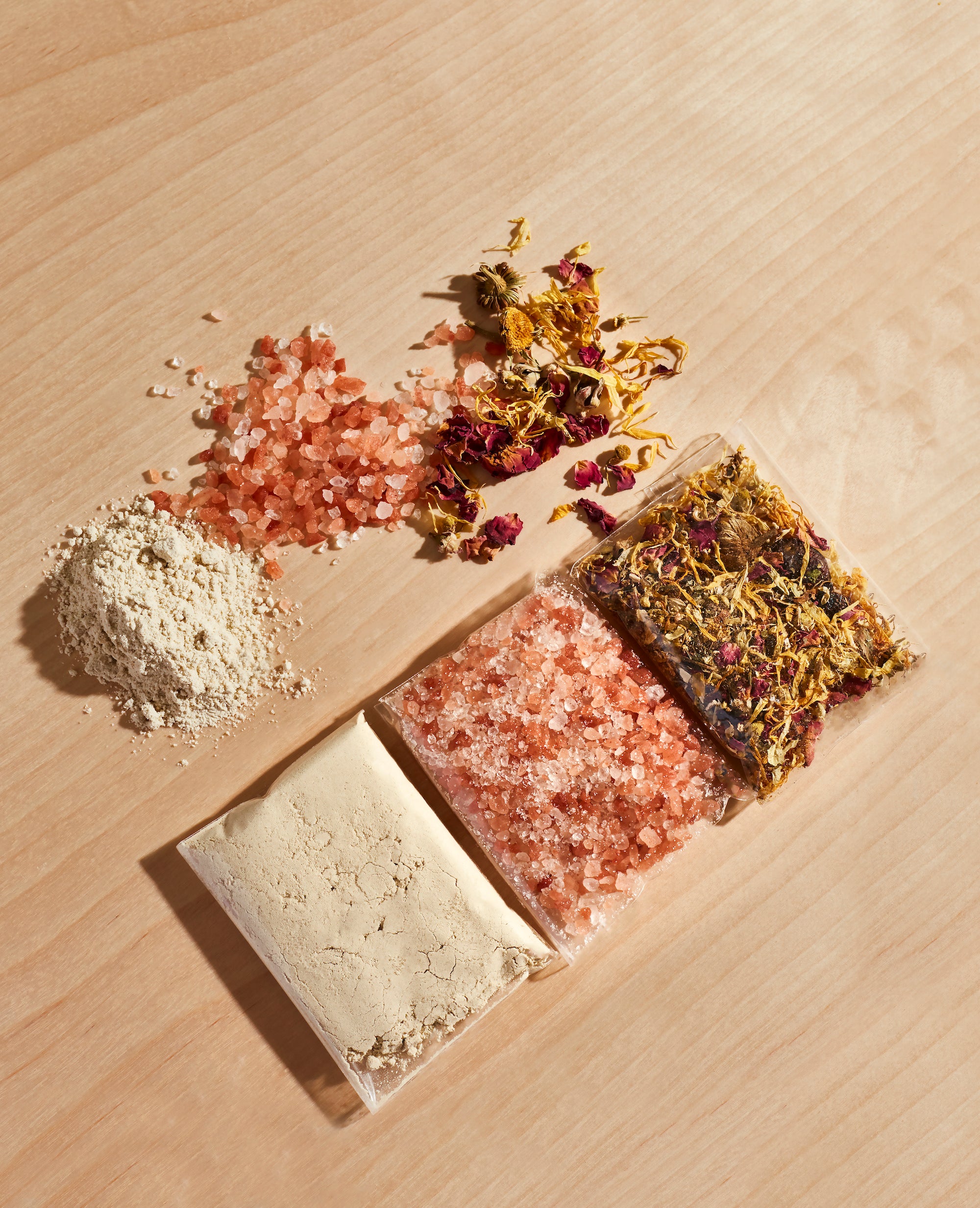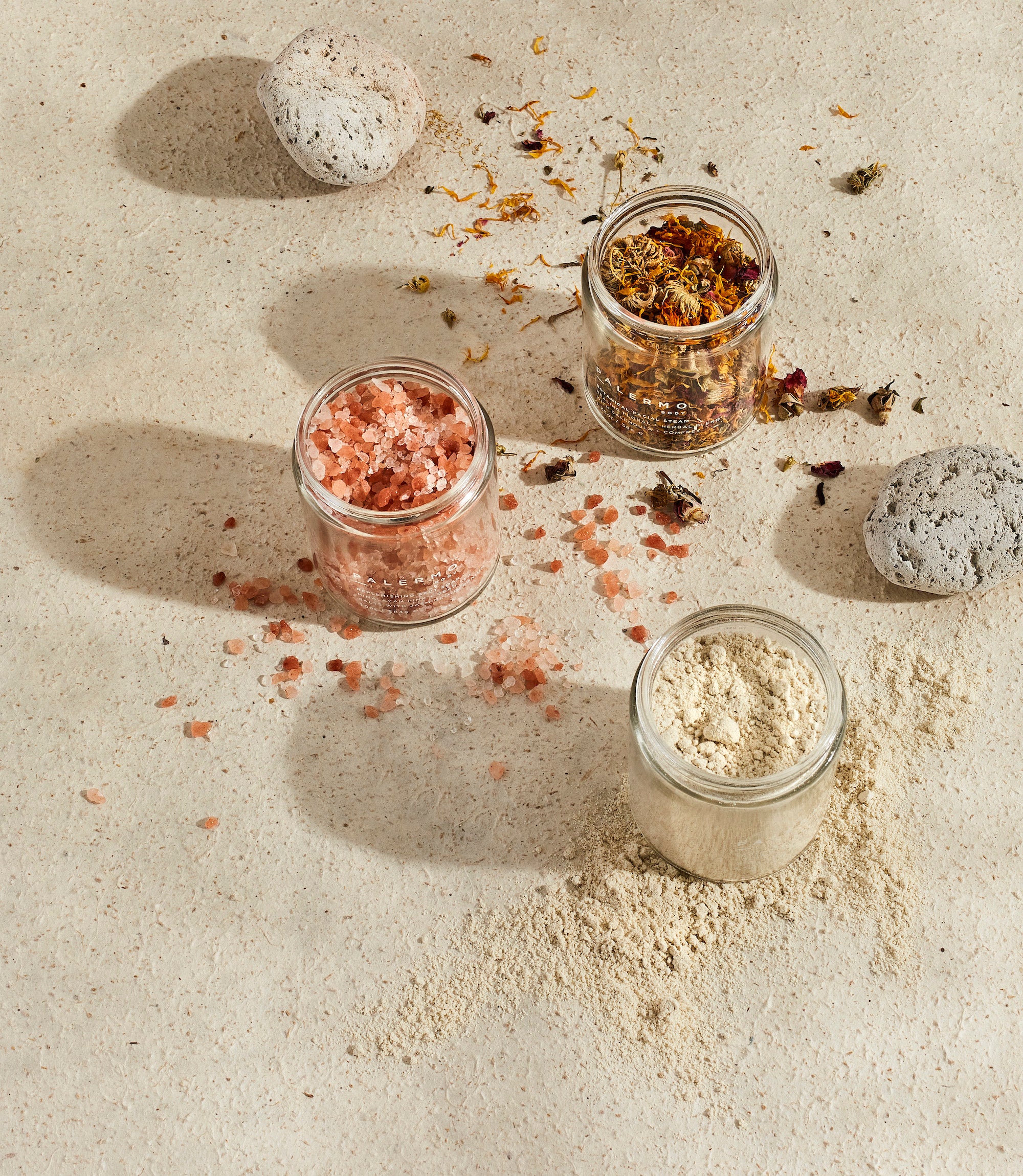 Self-Care Sample Trio
For a relaxing spa day at home
Relaxation is near with this sweet box set of our beautiful bath products and facial steam. 
Our most popular relaxation products, made mini for your convenience. At Palermo, baths and facial steams are some of our favorite ways to slow down and take care of ourselves. Perfect for traveling, gift-giving, or just treating yourself to some well-deserved "me-time", this charming little box contains all the essentials for a cozy night in.
Each deluxe sample size is packaged in individual resealable and recyclable bags and contains enough for two generous uses. We also sell all three products in full size...in case relaxation becomes a habit.
Replenishing Salt Soak
Sprinkle a palmful of salts throughout warm bathwater. Stir water allowing salts to dissolve and release the essential oils. Enjoy + relax as your skin soaks in the minerals, replenishing its natural glow.

Soothing Milk Bath
Add a generous dusting of milk bath under running water and disperse with hands just before entering your bath. enjoy + relax as the coconut milk and oatmeal soothe and revitalize your skin.

Botanical Facial Steam
Place 1-2 tablespoons of blend into a large bowl, cover with 3-4 cups of boiling water. Drape a towel over your head to capture steam. Enjoy the gentle heat and aroma for 10-15 min as the herbs gently purify + cleanse your pores. When finished you can reuse the floral water by adding it to a clay mask for a full facial treatment.
Replenishing Salt Soak
Sodium Chloride (himalayan pink salt)+, Maris Sal (dead sea salt)+, cocos nucifera (coconut) fractionated oil, jasminum sambac (jasmine) oil, pelargonium graveolens (rose geranium) oil, boswellia sacra (frankincense) oil

+hand harvested & sun dried

Soothing Milk Bath
Dehydrated Coconut Milk*, Avena sativa (oat flour), Maris Sal (dead sea salt)+, Sodium bicarbonate (baking soda), Aloe Barbadensis Leaf*, Matricaria recutita (chamomile), Lonicera japonica (honeysuckle) Arctium lappa (burdock root), cocos nucifera (coconut pulp CO2)*

*organic +wild harvested

Botanical Facial Steam
Calendula flowers*, Rose Petals*, Rosehip*, Jasmine Flowers*, Chamomile Flowers*, Dandelion Root*, Witch Hazel Leaf*, Comfrey Leaf*, Yarrow Leaf*, Elder Flowers*

100% Organic
Inside our Self-Care Sample Trio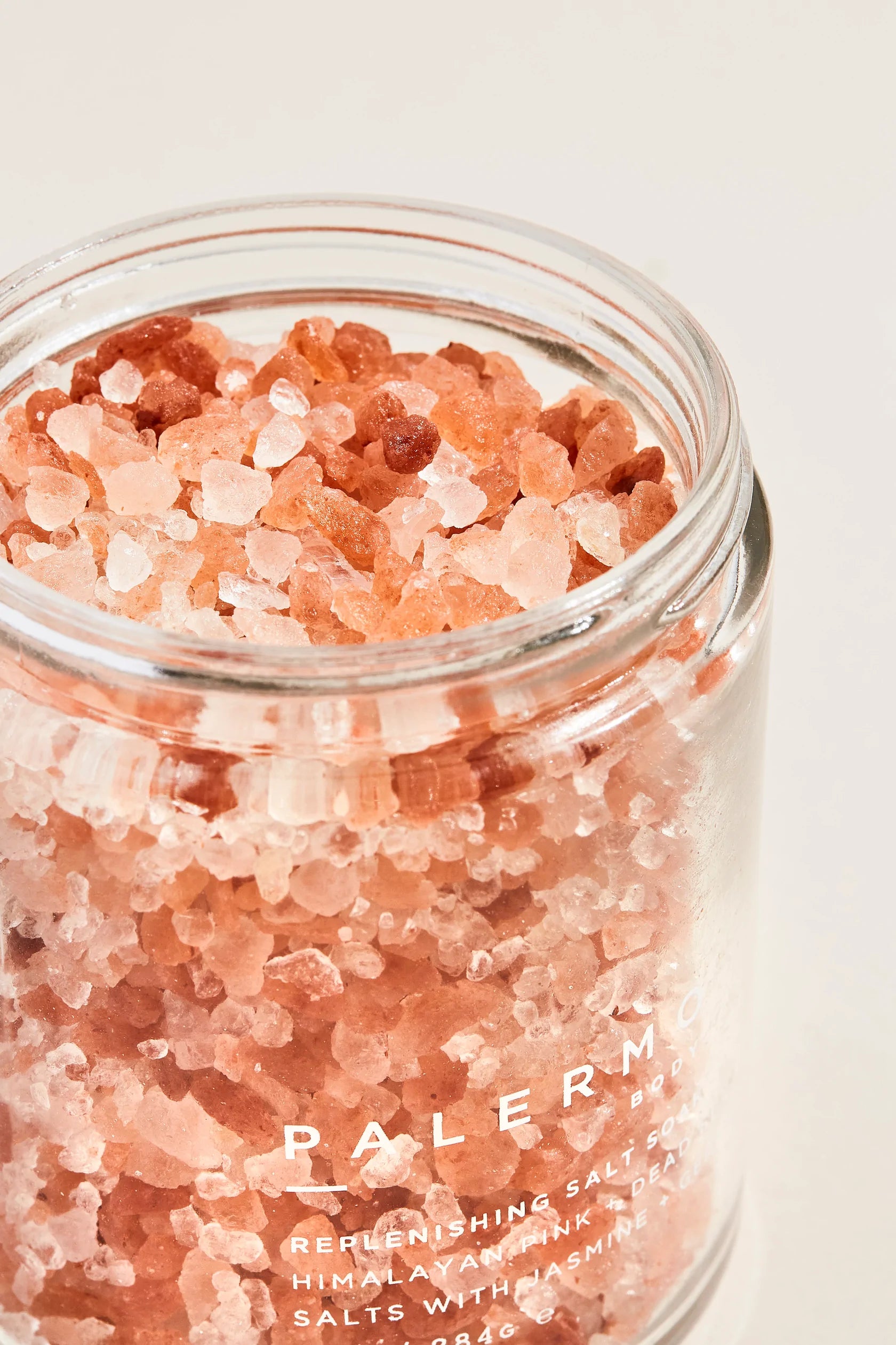 Replenishing Salt Soak
Scented with intoxicating Jasmine Sumac Absolute and balancing Geranium essential oil. Himalayan and Dead Sea Salts are rich in minerals that are essential for healthy skin such as magnesium, calcium, and potassium to name a few. Additionally, they have been found helpful in removing toxins, stimulating circulation and soothing sore muscles.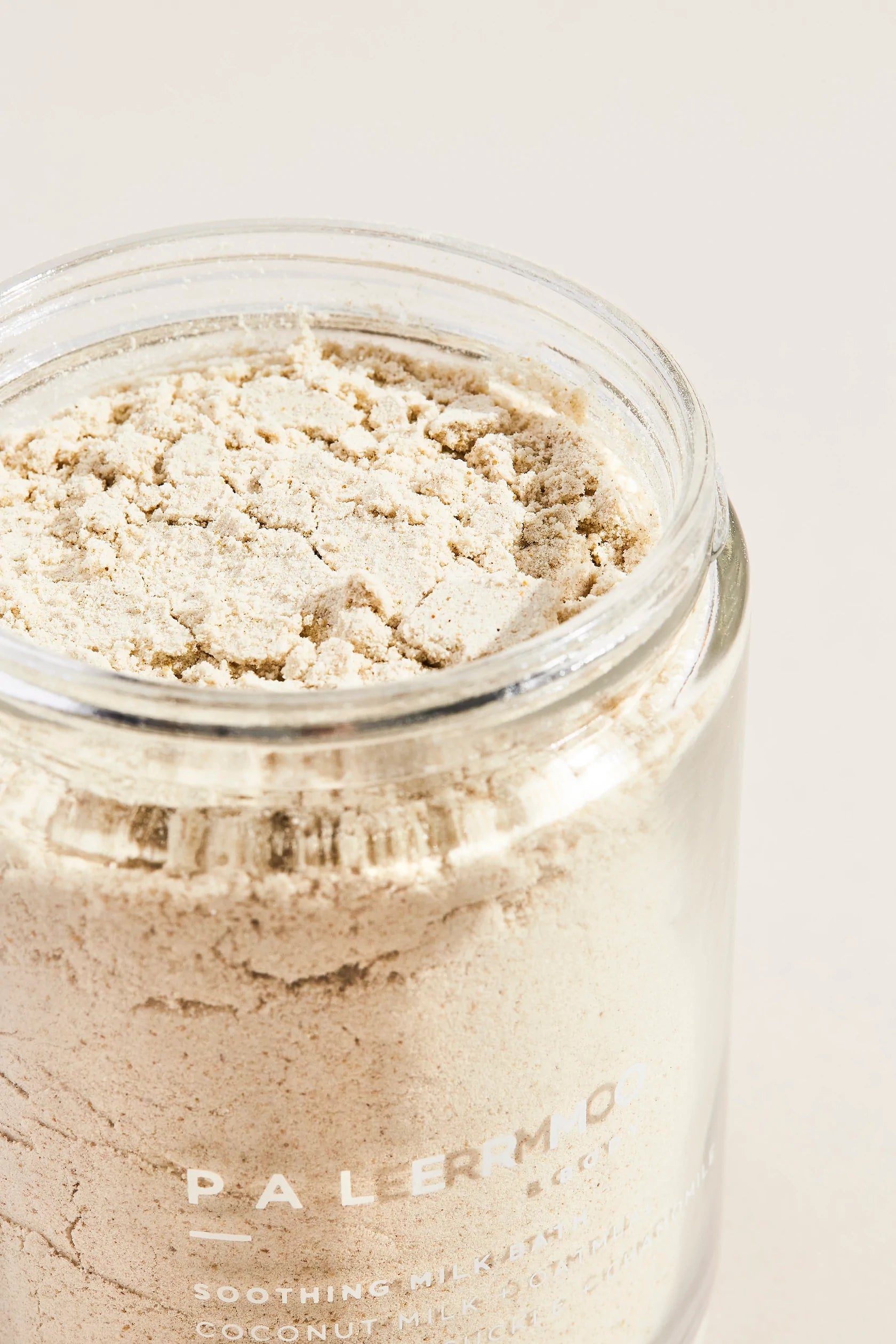 Soothing Milk Bath
Intended to alleviate dry sensitive skin with healing herbal extracts and moisturizing coconut milk. Oatmeal, honeysuckle and chamomile help in relieving irritation and itchy skin making it ideal for even the most sensitive skin.
Perfect Spa Trio
Perfect trio to add with a spa gift or try products. I love the trio.. Salt Soak & Soothing Milk Bath are so soothing!!! Made my skin feel so silky & soft, like bathing in light cream, fabulous!!!
This was recommended by a friend, and I se...
This was recommended by a friend, and I sent it to another friend who is due for some alone time. I might have to buy one for myself soon, too!
I love this, I wonder if there's time to s...
I love this, I wonder if there's time to ship a couple as gifts because I'm keeping mine!
My friend loved her gift! Thank you!
My friend loved her gift! Thank you!