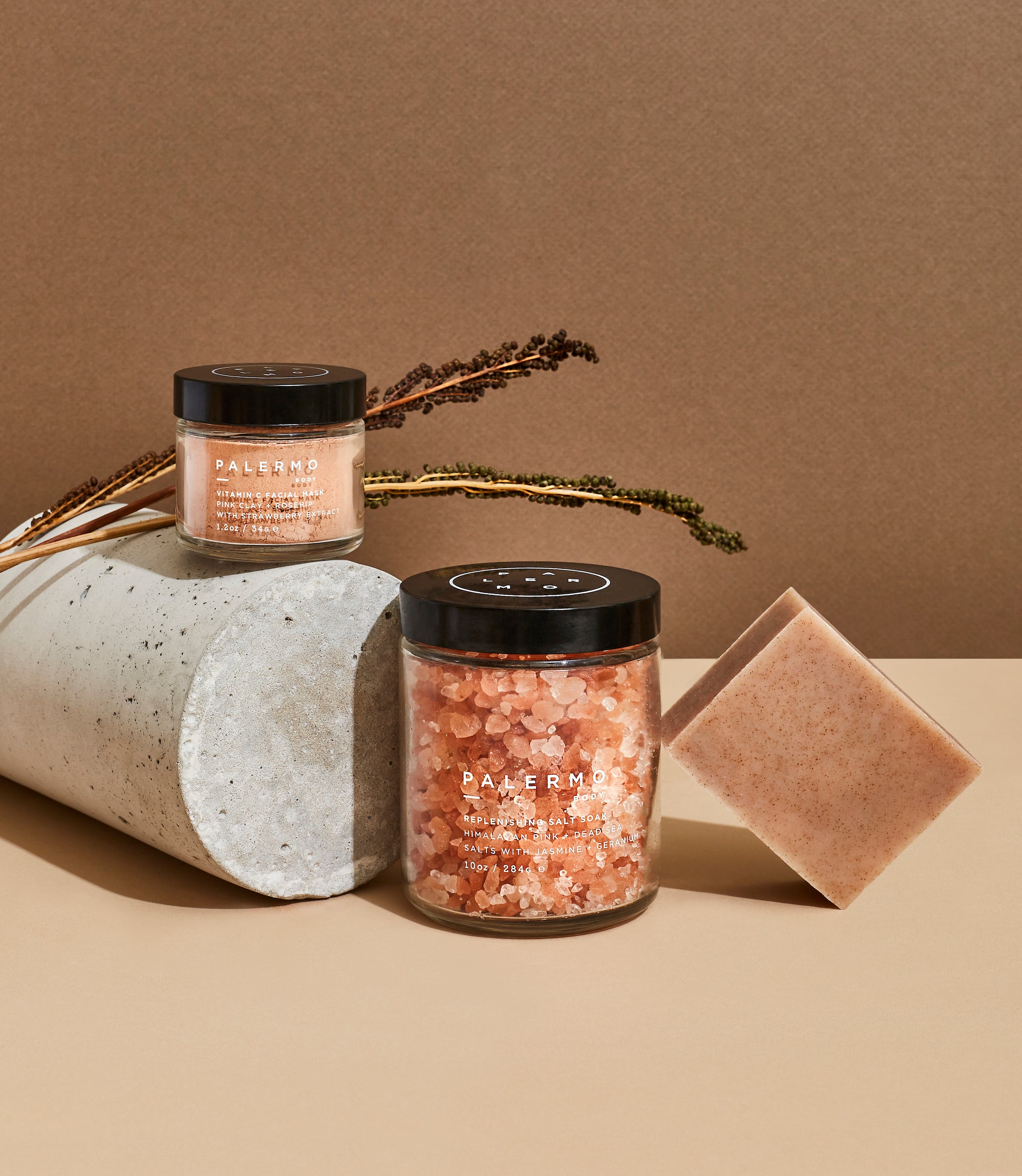 Renew + Replenish Routine
Dreamy + Revitalizing
Our Renew + Replenish Routine is an assortment of dreamy and invigorating self-care favorites selected to revitalize skin and spirits from head to toe. Beautifully fragranced and pretty as can be, this set is perfect for anyone who craves a bit of well-deserved indulgence.
Replenishing Salt Soak
Sprinkle a palmful of salts throughout warm bathwater. Stir water allowing salts to dissolve and release the essential oils. Enjoy + relax as your skin soaks in the minerals, replenishing its natural glow.

Vitamin C Mask
Add a teaspoon of mask powder to a small dish and add a few drops of water until desired consistency. Using fingertips or mask brush apply to face. Allow to dry for 10-15 min and rinse off with warm water, massaging for gentle exfoliation.

Rose Geranium + Mandarin Soap
Lather with water to naturally cleanse face, hands, and body.
Replenishing Salt Soak
Sodium Chloride (himalayan pink salt)+, Maris Sal (dead sea salt)+, cocos nucifera (coconut) fractionated oil, jasminum sambac (jasmine) oil, pelargonium graveolens (rose geranium) oil, boswellia sacra (frankincense) oil

Vitamin C Mask
French pink clay, australian pink clay, rosehip powder*, strawberry extract, hibiscus powder*, chamomile powder*, geranium oil.

Rose Geranium + Mandarin Soap
Saponified olive, coconut*, sustainable palm*, and castor oils; shea butter*, rosehip powder*, rose geranium oil, mandarin oil.

+hand harvested & sun-dried *organic
inside your Renew + Replenish Routine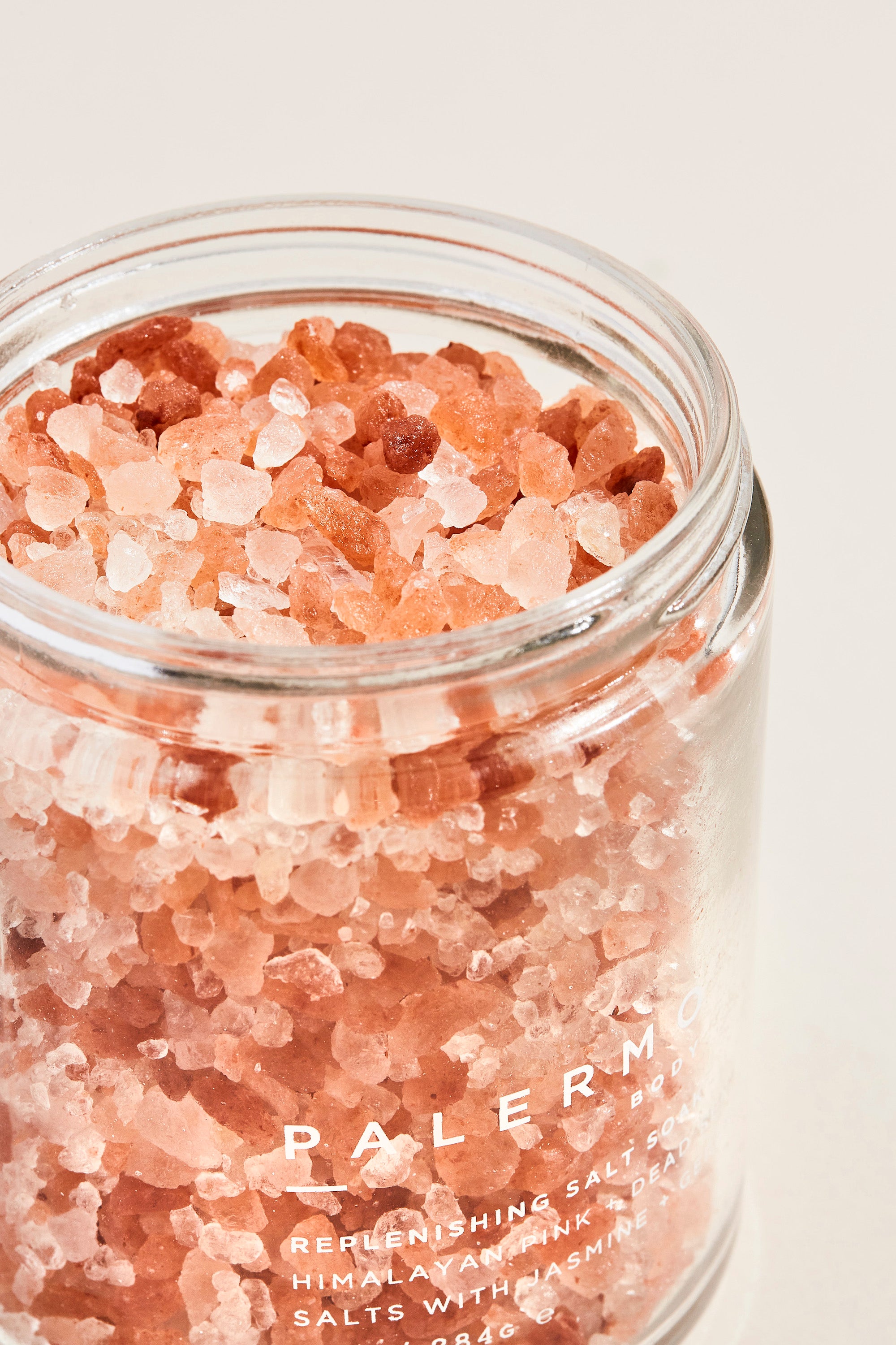 Replenishing Salt Soak
A bath blend made of Himalayan pink and Dead Sea salts scented with Jasmine Sambac Absolute and geranium oils. Aromatic, grounding, and excellent for relieving tension and soreness. 10oz.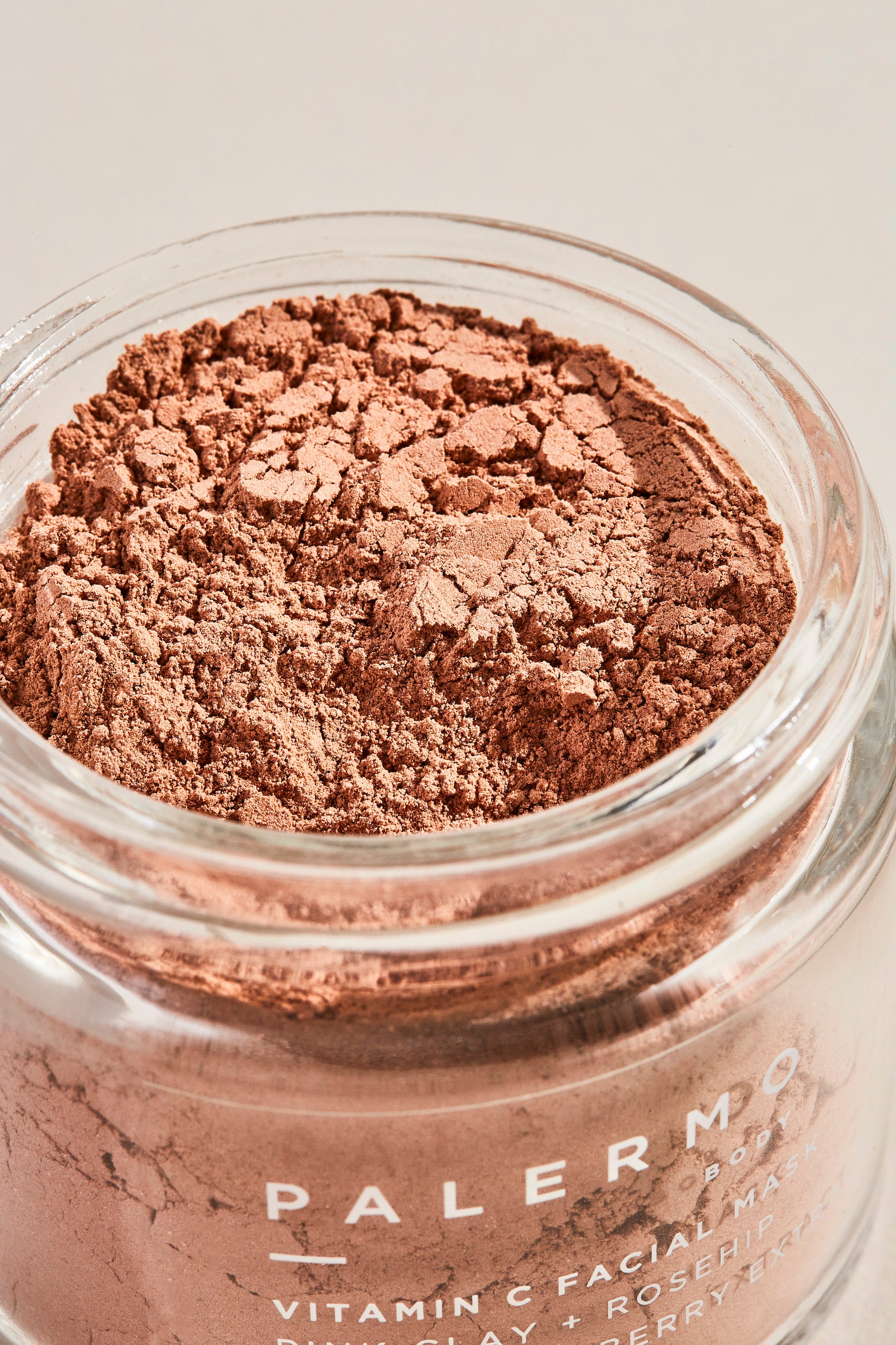 Vitamin C Facial Mask
A brightening, vitamin C rich powder clay mask with rosehip, geranium, and strawberry extract. Gentle and well-suited for all skin types. 1.2oz.
A Birthday Gift
I want to Thank the Team at Palermo Body for doing an Excellent job putting together My Order and Shipping it in such a Timely Manner. It was a Birthday gift for a Friend and She Absolutely loved the Products. I am sure will be reordering and I will Continue to Support Palermo Body.
Again Thank you to Jess and the entire Team.
Sincerely,
Johnny Mo
"Wonderland in a box"
Randomly came across the gift set advertised on social media and decided to surprise my friend. I usually create my own gift box with an assortment of items. With Covid, the pre-made set seemed like a perfect substitute.
The set far exceeded my expectations. My friend described it as "a beautifully wrapped, exquisitely smelling wonderland in a box 💕." I was surprised to learn that the message I added was included as a beautifully hand-written note! Way better than my own hand writing lol
I can tell from her response that the package successfully conveyed the message of love and care. It's clear how much thought and care the team has put into preparing the gift set—I cannot thank you enough!
These gift boxes are definitely going to be part of my gifting go-to items. I'm hoping they will be offered beyond the holiday season!