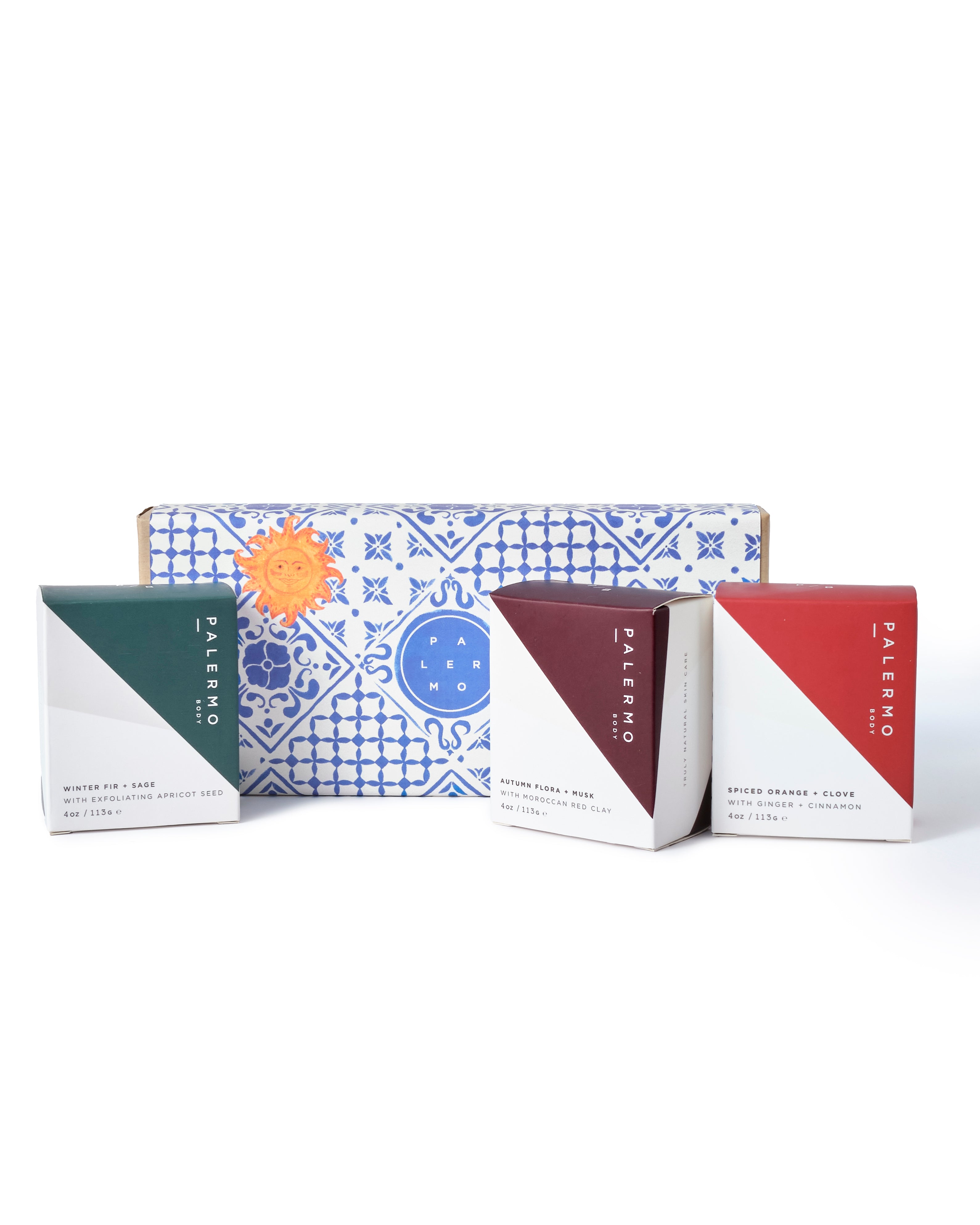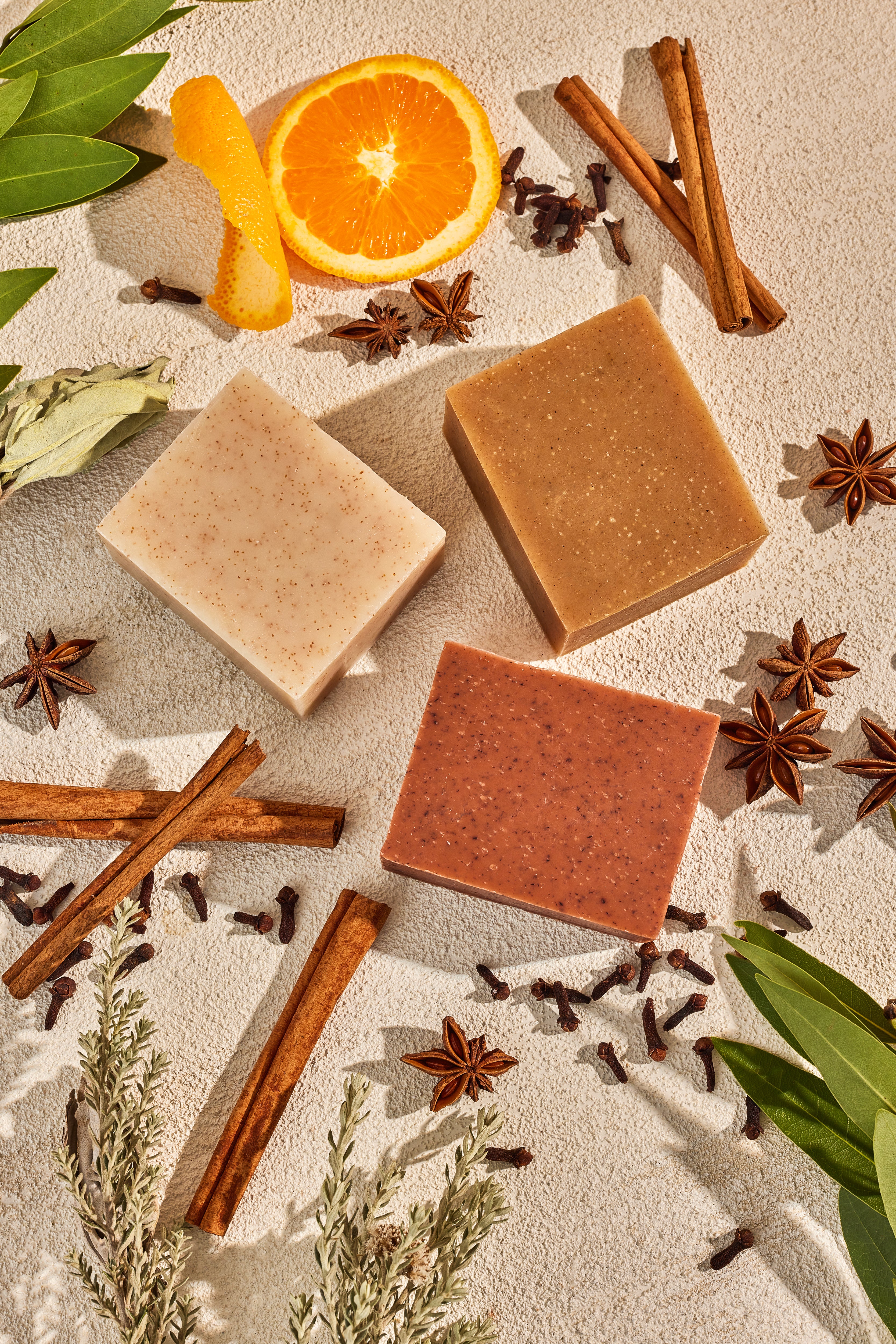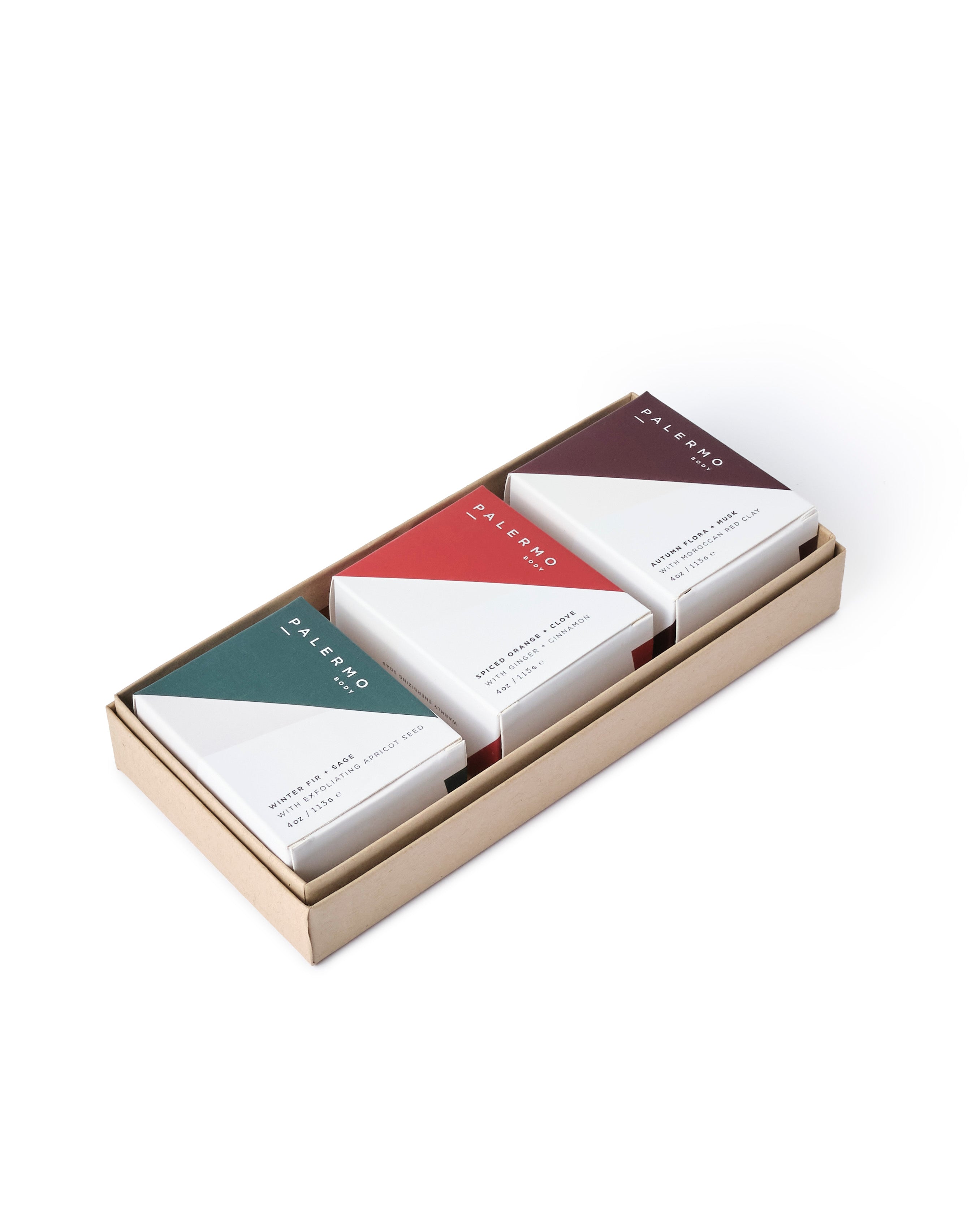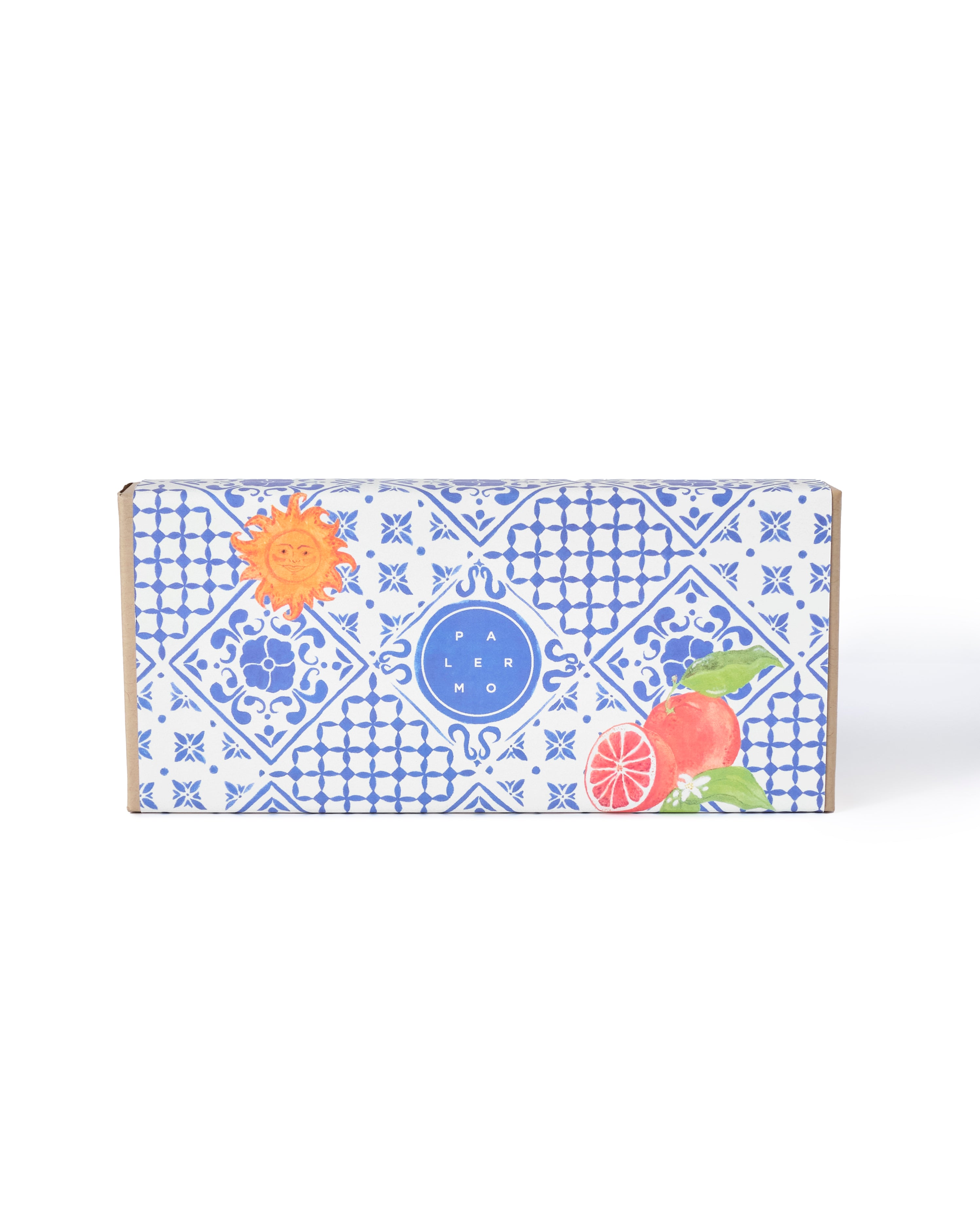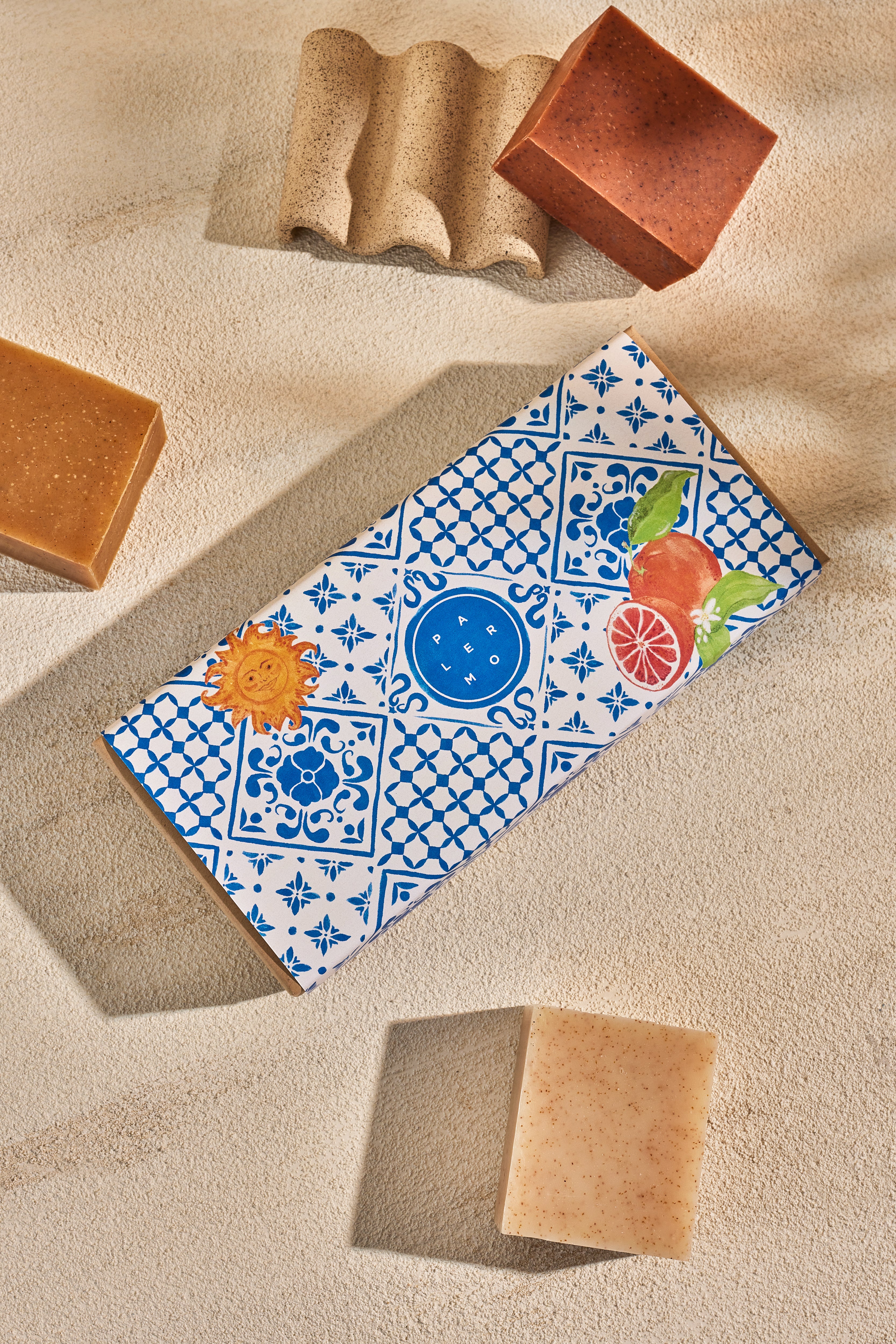 Sicilian Holiday Soap Trio
Limited-edition bar soaps for the holiday season
This year we created three (yes, THREE!) limited edition bar soaps that exude the seasonal elements that make this time of year oh-so-special. Sicily is at the very heart of this Trio, from the hand-painted design we've used to wrap the box to the deep and warm aromas of each soap.
A Look Inside the Trio:
Autumn Flora + Musk

: This alluring scent will transport you into the wilderness. It's made with Moroccan red clay and the aroma is reminiscent of an intimate night by the fire surrounded by beautiful flora.

Spiced Orange + Clove

: Made with Sicilian blood orange, our Spiced Orange + Clove soap smells like a baked good. The beautiful citrus notes are wonderfully complemented by the warming baking spices. Like bathing in a bakery, and who doesn't want that?

Winter Fir + Sage

: You may remember this one from last year. It was so popular that many of you have reached out to re-up throughout the year so we're so glad to bring it back! This beautiful, fresh, vibrant green aroma is just so reminiscent of holiday and of fresh spruce trees in all of their glory. Finely ground apricot seeds provide invigorating exfoliation to polish away dry skin, while rich shea butter leaves skin moisturized and protected.
4 oz / 113 g soap bars
Lather with water to naturally cleanse face, hands, and body.
Autumn Flora + Musk
saponified olive, coconut*, sustainable palm*, and castor oils; shea butter*, moroccan red clay, red sandalwood, ylang ylang oil, palmarosa oil, cedarwood oil, litsea cubeba oil

Spiced Orange + Clove
Saponified Olive, coconut*, sustainable palm*, and castor oils; shea butter*, orange peel*, ginger*, turmeric*, cinnamon*, clove*, blood orange oil, ginger oil, cinnamon oil, cassia oil, clove oil

Winter Fir + Sage
Saponified Olive, coconut*, sustainable palm*, and castor oils; shea butter*, apricot seed, fir needle oil, clary sage oil, cedarwood oil, clove oil

*organic
You're Invited to Sicily for The Holidays
"This trio illustrates what I have been most inspired by this season—beautiful Sicilian tile, deep and warm aromas, and bold, seasonal ingredients. ​​Scent connects us to memories, old and new. I hope these sensorial aromas bring you comfort and cheer this holiday season." Ciao, Jess
Explore More Holiday