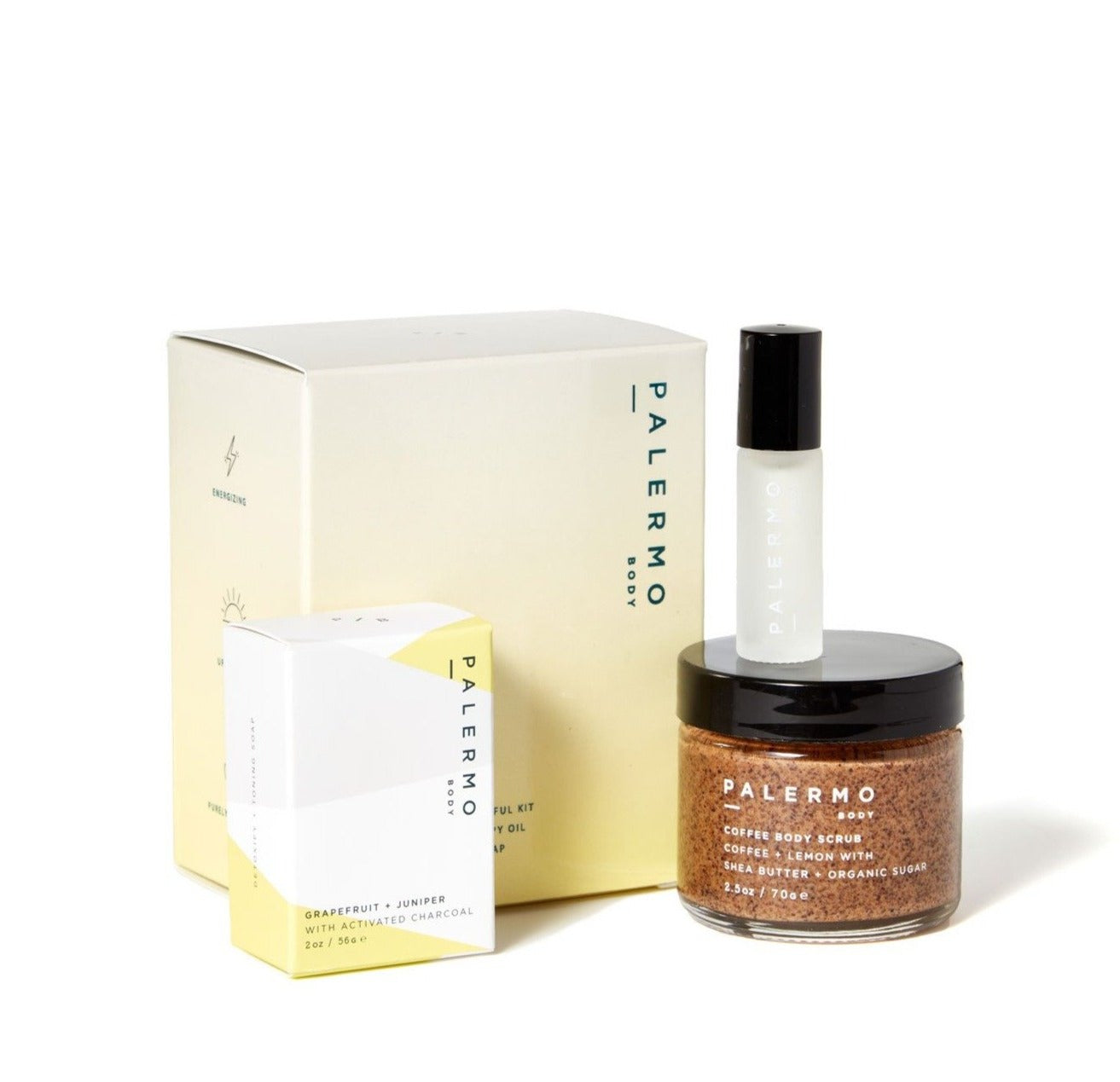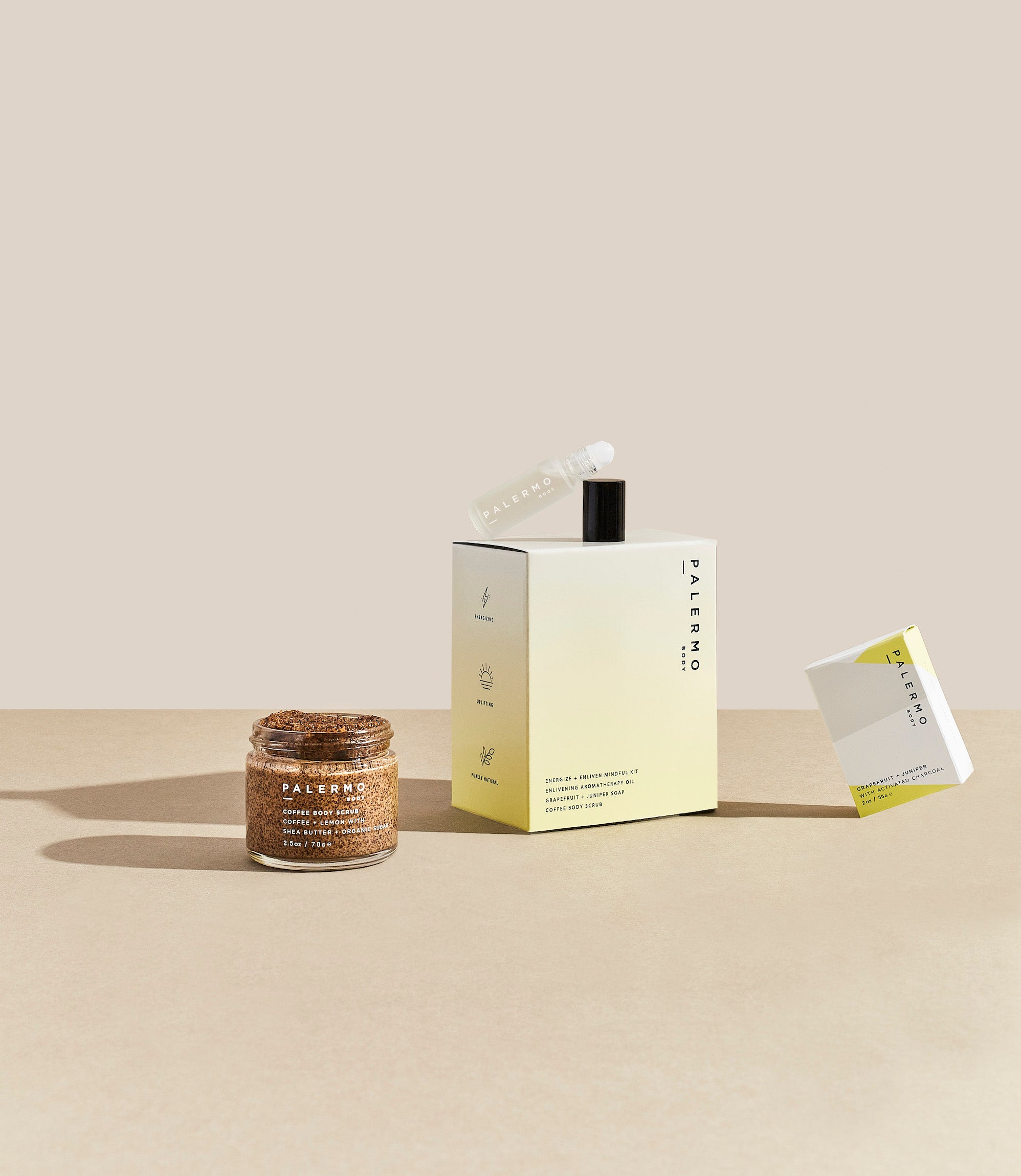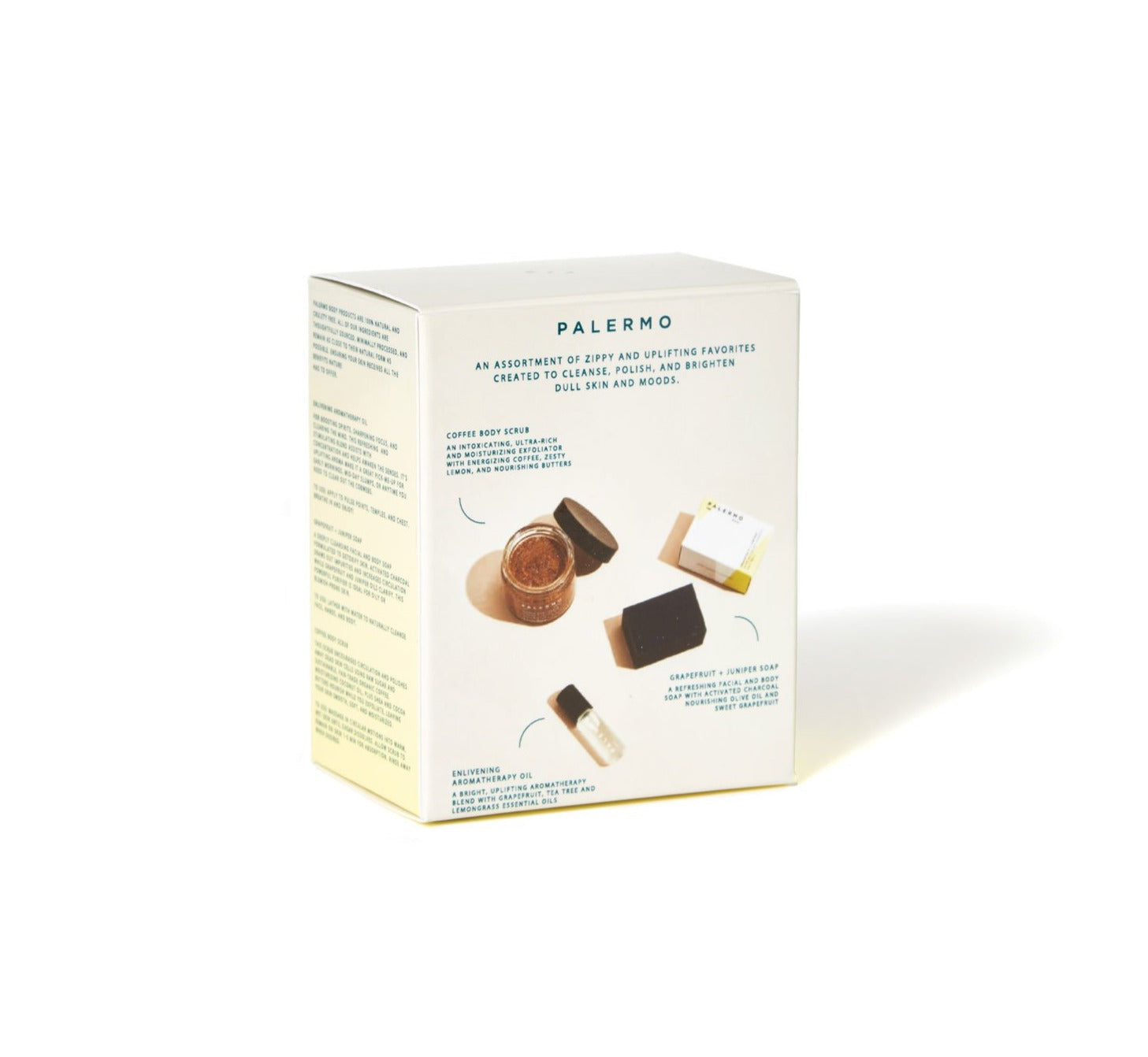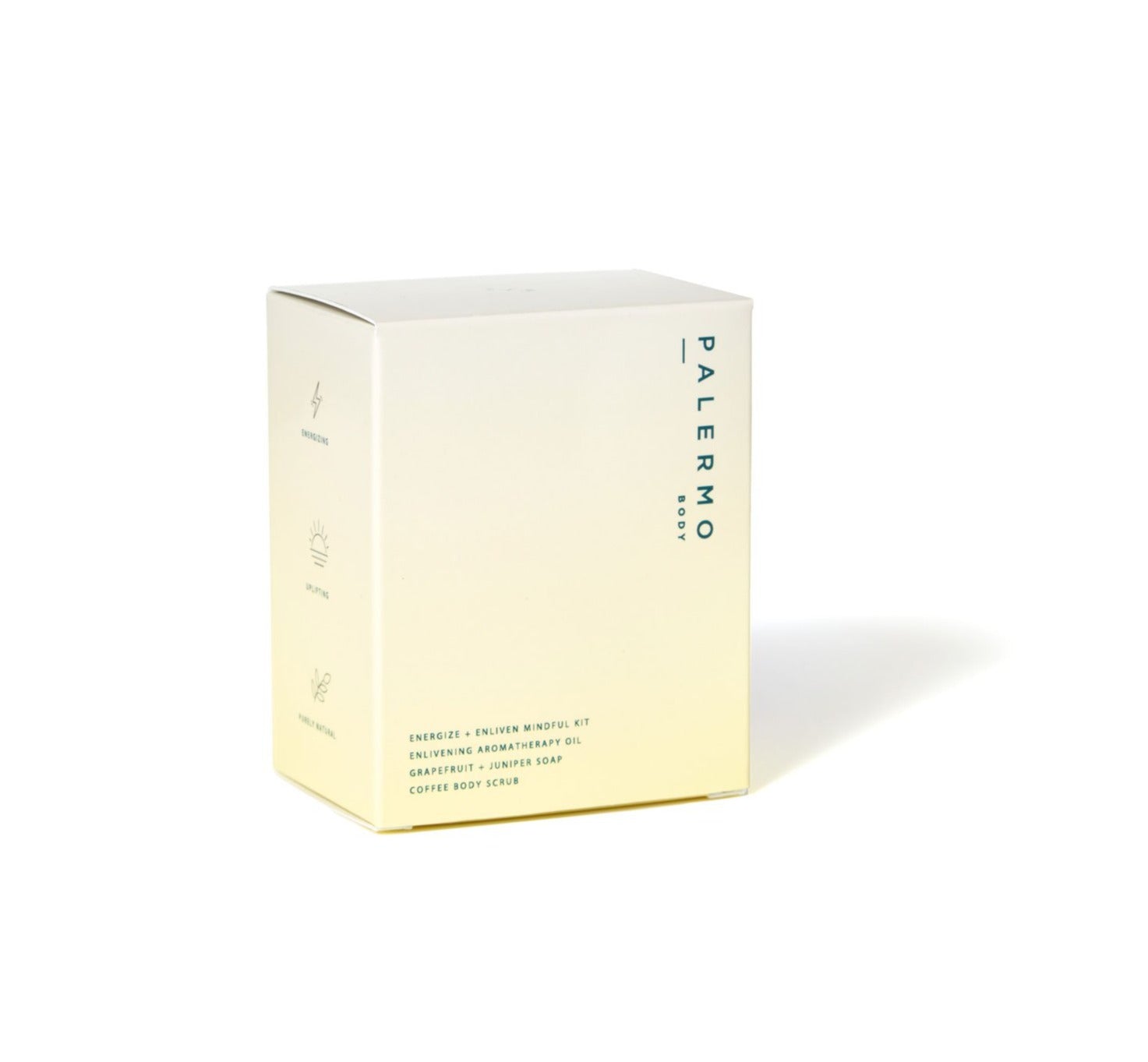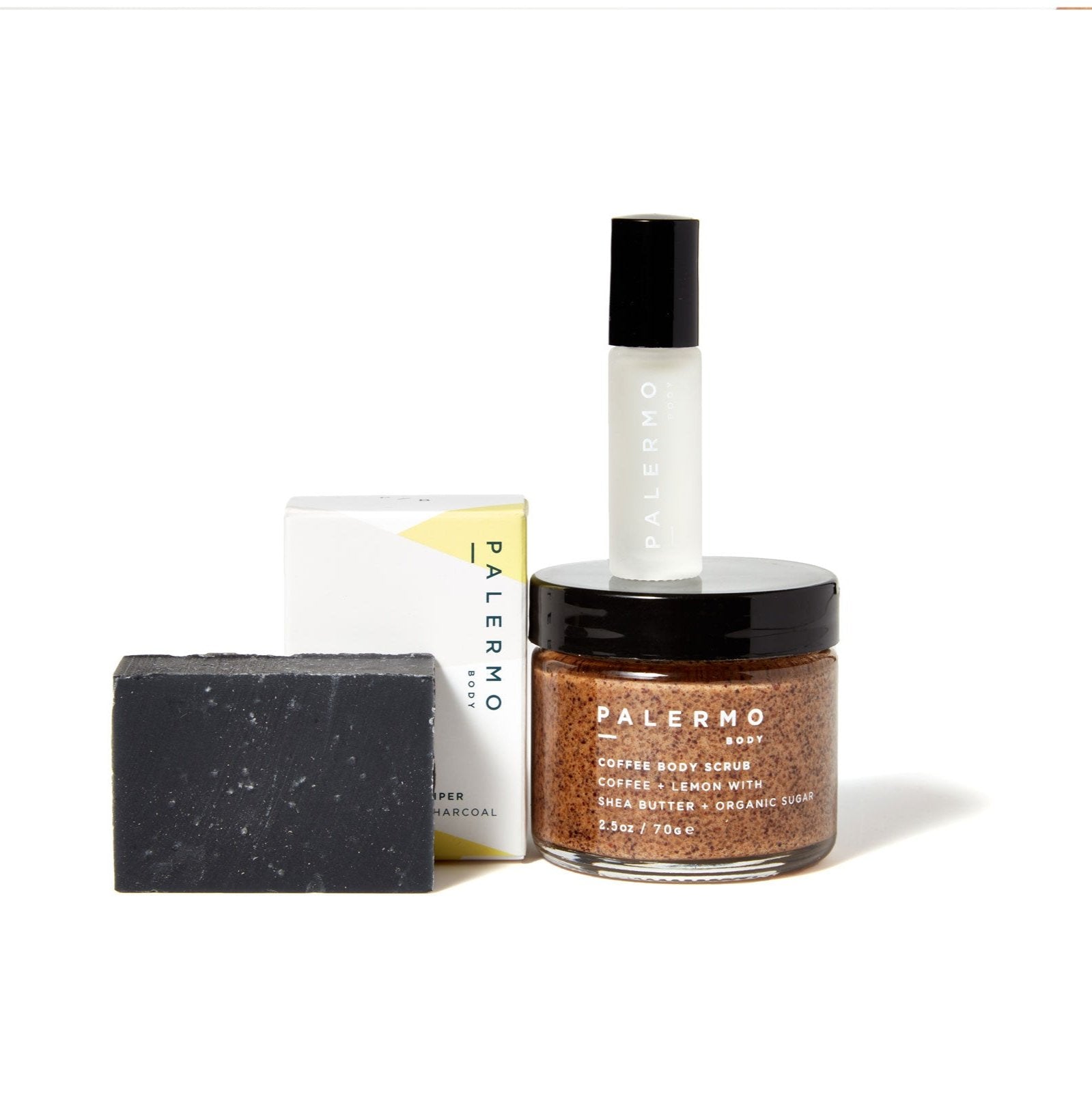 Energize + Enliven Mindful Kit
An excellent remedy for winter days
Our Mindful Kits are intended to cultivate moments of mindfulness throughout your day with products that complement one another and your routine.
A $45 value, our Energize + Enliven Mindful Kit is an assortment of zippy, uplifting bath and body favorites selected to cleanse, polish, and brighten dull skin and moods. Featuring coffee, sugar, and juicy citrus, this perky set is an excellent remedy for shorter days and winter sluggishness.

This Gift Set Includes: 
2.5 oz Coffee Body Scrub: An intoxicating and ultra-moisturizing sugar body scrub featuring energizing coffee, zesty lemon, and nourishing cocoa and shea butters.
5 ml Enlivening Aromatherapy Oil: A bright, uplifting aromatherapy blend featuring grapefruit, lemongrass, and tea tree oils.
2 oz Grapefruit + Juniper Soap: A refreshing, detoxifying facial and body bar featuring activated charcoal, energizing grapefruit, and hydrating olive oil. Ideal for oily and blemish-prone skin.
Coffee Body Scrub
Massage scrub in circular motions into warm, damp skin until sugar begins to dissolve. Allow to remain on skin for a few moments for absorption. Rinse off when desired.

Enlivening Aromatherapy Oil
Apply to pulse points, temples, and chest. Breathe in and enjoy!

Grapefruit + Juniper Soap
Lather with water to naturally cleanse face, hands, and body.
Coffee Body Scrub
Raw sugar*, fair trade coffee*, shea butter*, coconut oil, cocoa butter*, olive oil, apricot kernel oil, lemon butter, vitamin e (non-GMO), rosemary oil extract, lemon oil

Enlivening Aromatherapy Oil
Caprylic/Capric Triglyceride (fractionated coconut oil), Proprietary blend of essential oils and absolutes.

Grapefruit + Juniper Soap
Saponified olive, coconut*, sustainable palm*, and castor oils; activated bamboo charcoal, grapefruit oil, juniper oil.

*organic
Perfect size!☕️Great scrub!
This is unlike any coffee scrub! Amazing!
Hello, I got my scrub and it was all melted, so I decided to let it sit so it can have that scrub consistency. It's hasn't quite done that, and the oil is just floating at the top and I don't think that's how it's supposed to be.
I'm sure it is a good scrub, just wished it would be like the pictures or videos I've seen about it.
Ciao Wanjiku,
We appreciate you taking the time to share your experience as it's so important to us that our customers fully enjoy our products.
We do not use any synthetic stabilizers or fillers in our scrubs and as a result, the rich butters and oils that make them so nourishing have a possibility of melting in transit when exposed to high temperatures. Despite potential melting, the quality and benefits of the scrub still remain! Usually, 5-10 minutes in the fridge paired with a good stir will bring back its thicker consistency.
I've reached out directly as well so we can ensure we reach a solution you're fully happy with. Thank you again for your support of our small business!
Ciao, Palermo Customer Support Team
Love it!
This scrub is fantastic and smells amazing
One of the best coffee scrubs ! 👍🏼